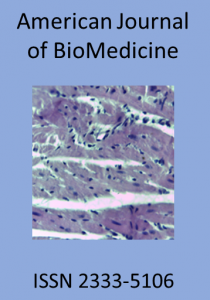 Abstract
Several members of the TGF-β super family play important roles in connective tissue growth. The bone morphogenetic proteins (BMPs) induce early cartilage formation and MMP13 is a major enzyme targeting cartilage for the degradation of types II, IV, and IX collagen, proteoglycan, osteonectin and perlecan. In this review, we discuss the crosstalk between SMAD/TGF-β signalling pathway and therapeutic applications in connective tissue diseases.
Keywords: SATF3; Endotoxemia; Proinflammatory cytokine; HMGB1
Copyright © 2021 by The American Society for BioMedicine and BM-Publisher, Inc.
Article citation
References
Full-Text/PDF
Become reviewer
Research Article
http://dx.doi.org/10.18081/2333-5106/015-09/534-544
American Journal of BioMedicine 2021, Volume 9, Issue 2, pages 110-121
Received December 12, 2020; revised April 06, 2021; accepted May 01, 2021; published May 11, 2021
How to cite this article
Li X, Bronner M, Ribeiro JA, Oliveira K. Role of SMAD/TGF-β signaling pathway in connective tissue diseases. American Journal of BioMedicine 2021;9(2):110-121.
Research Article
1. Abstract
2. Keywords
3. Introduction
4. Methods
5. Results
6. Discussion
7. References