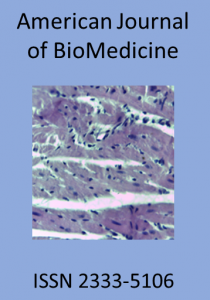 Abstract
Lipopolysaccharides are components of Gram-negative enterobacteria that cause septic shock in mammals and triggers innate immunity mainly via TLR4 signaling. HMGB1 play a critical role in regulating innate immunity-induced sepsis. ATF3 is a negative regulator of TLR4 signaling and the mechanism of HMGB1 induced liver injury after sepsis are incompletely understood. In this study, we investigated the protective effects of ATF3 after LPS injection. Adult (4-6 months) C57/BL6 mice and ATF3 knockout mice were treated with a low dose of LPS (0.5 mg/kg, iv) for 6, 12 hrs. Liver enzymes and cytokines (TNF-α, IL-1β and IL-6) are assessed. The neutrophil and mononuclear cells in the liver tissue were examined using immunofluorescent staining. We found that serum HMGB1 levels were 8-fold higher in C57/BL6 mice with sepsis than ATF3 knockout with greater densities of neutrophils and mononuclear cells in the liver tissue, and higher levels of TNF-α, IL-1β and IL-6 in the circulation and liver tissue as well as associated with an increase in the mortality rate. In conclusion, upregulation of ATF3 contributes to the reduced release of HMGB1, and increased the survival rate of mice after LPS treated. Therefore, suppressing LPS-induced inflammation with ATF3 induction may be an important strategy for sepsis therapy.
Keywords: SATF3; Endotoxemia; Proinflammatory cytokine; HMGB1
Copyright © 2014 by The American Society for BioMedicine and BM-Publisher, Inc.
Article citation
References
Full-Text/PDF
Become reviewer
Research Article
DOI: http://dx.doi.org/10.18081/2333-5106/014-04/288-299
American Journal of BioMedicine 2014, Volume 2, Issue 4, pages 288-299
Received 11 June 2013; accepted November 23, 2014, Published December 15, 2014
How to cite this articleYun Y, Zheng X, Chen L, et al. Expression of ATF3 in mouse protects the liver against sepsis via inhibiting HMGB expression. American Journal of BioMedicine 2014;2(4):288-299
Case report outline
1. Abstract
2. Keywords
3. Introduction
4. Methods
5. Results
6. Discussion
7. References