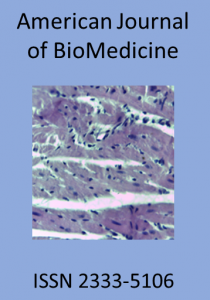 Abstract
Numerous biomarkers have been studied to identify the cause and severity of sepsis MicroRNAs (miRNAs) are non-coding RNA transcripts that regulate the expression of genes by repressing translation or degrading mRNA. Sepsis is a life-threatening condition and the major cause of mortality among patients in intensive care units, including acute phase proteins such as C-reactive protein (CRP). However, the lack of specify of these more frequently used biomarkers impedes the significant requirement to identify novel biomarkers for early sepsis detection. The role of miR-146a in the physiopathology of sepsis in myocardial depression continues to be poorly understood. miR-486/miR-150 may be used as a potential marker to difference sepsis induces myocardail function from non-sepsis causes.
Keywords: Myocardial depression; Biomarkers; mRNA; Sepsis
Copyright © 2015 by The American Society for BioMedicine and BM-Publisher, Inc.
Article citation
References
Full-Text/PDF
Become reviewer
Research Article
DOI: http://dx.doi.org/10.18081/2333-5106/015-06/313-324
American Journal of BioMedicine 2017, Volume 5, Issue 4, pages 303–314
Received June 11, 2017; Accepted September 09, 2017; Published October 03, 2017
How to cite this article
Thron R, Andersson T,Lee K, Adrienne M. Critical role of microglia in the inflammatory response after spinal injury. American Journal of BioMedicine 2017;5(4):303–314
Research Article
1. Abstract
2. Keywords
3. Introduction
5. Results
6. Discussion
7. References