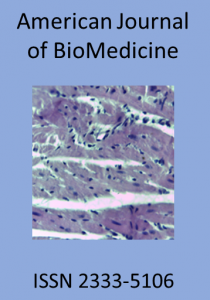 Abstract
Glioblastoma is the most common and malignant primary brain tumor but its occurrence in the cerebellum is very rare. Giving its low occurrence the treatment modalities and outcome of this glioblastoma location are still poorly understood. We present the case of an adult woman with a cerebellar glioblastoma treated at the Clinical Hospital of Montevideo, and we perform a non-systematic review of the literature concerning the clinical, radiological and pathological features of this tumor, as well as its treatment modalities, prognostic factors and outcome.
Keywords: Cerebellar glioblastoma; Treatment modalities; Prognostic factors; Outcome
Copyright © 2020 by The American Society for BioMedicine and BM-Publisher, Inc.
Article citation
References
Full-Text/PDF
Become reviewer
Article Review
DOI: http://dx.doi.org/10.18081/2333-5106/016-3/42-53
American Journal of BioMedicine 2020, Volume 8, Issue 1, pages 1-12
Received October 12, 2019; Accepted December 02, 2019; Published January 03, 2020
How to cite this article
Matsuda SM, Nakamura J, Eikan S, et al. XIAP expression attenuated myocardial injury in aging hearts after myocardial ischemia and reperfusion in mice model. American Journal of BioMedicine 2020;8(1):1-12
Article Review
1. Abstract
2. Keywords
3. Introduction
4. Discussion
5. References