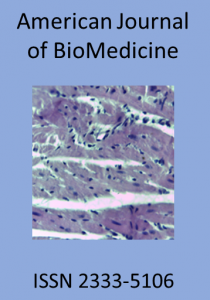 Abstract
In the United State, lung cancer remains the leading cause of cancer death in both men and women. Several reports have suggested a role for estrogens in the development and/or progression of lung cancer, especially in women. Data from the national SEER registry between the years of 1990-2011 was analyzed, women between the ages 31-50 years old were chosen as representative of the premenopausal group (n=1595) and 51-70-year-old women represented the postmenopausal group (n=7075) as defined by the American College of Obstetricians and Gynecologists. For comparison, men were divided into two categories: younger men (n=2233) aged 31- 50 years and older men (n=10908) aged 51-70 years. Survival rates were analyzed by Kaplan-Meier method and compared by Z-test through SEER*Stat software version 7.0.9. The adenocarcinoma had a significant difference between premenopausal and postmenopausal groups (62% vs. 51%) respectively. Furthermore, the survival rate in premenopausal inferior to postmenopausal women in both SCC and BAC P<0.05. Premenopausal women more commonly underwent curative surgery, 42%, and 19% of postmenopausal women treated palliative. Additionally, for every stage of disease, 55% of postmenopausal women have radiotherapy. The results suggest varying estrogen effects between the histology sub-types of NSCLC and support clinical strategies need to block the ER pathway for the treatment of NSCLC.
Keywords: NSCLC; SEER; Estrogens; Premenopause; Postmenopause; Survival rate
Copyright © 2014 by The American Society for BioMedicine and BM-Publisher, Inc.
Article citation
References
Full-Text/PDF
Become reviewer
Review Article
DOI: http://dx.doi.org/10.18081/2333-5106/014-04/270-276
American Journal of BioMedicine 2014, Volume 2, Issue 4, pages 270-276
Received 21 May 2014; accepted October 22, 2014, Published November 26, 2014
How to cite this article
Yousif NG, Christian Schumann C. Differences in the survival rate between premenopausal and postmenopausal women with lung cancer: US SEER database. American Journal of BioMedicine 2014;2(4):270-276
Case report outline
1. Abstract
2. Keywords
3. Introduction
4. Methods
5. Results
6. Discussion
7. References