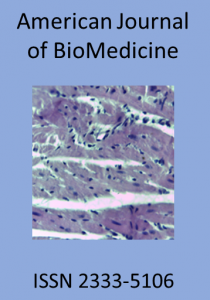 Abstract
The proinflammatory cytokines may mediate myocardial dysfunction associated with myocardial injury and inflammatory response is an important process during the pathogenesis of myocardial I/R injury. IL-27, this cytokine is mainly produced by cells of myeloid origin such as monocytes, macrophages, dendritic cells, and microglial cells, in response to stimuli acting through Toll-like receptors. The objective of present study is to assess whether IL-27 can improve ventricular function after myocardial ischemia by down-regulation of inflammatory response. The results demonstrated that the IL-27 markedly attenuated Left Ventricular Function (LVF) in mice model, and reduced plasma level of cTn-I as marker of cardiac injury. Moreover, the IL-27 was associated with up-regulation in both chemokine and cytokines expression following I/R, through down-regulation of activation of JAK/STAT pathway.
Keywords: IL-27; proinflammatory cytokines; myocardial I/R injury
Copyright © 2021 by The American Society for BioMedicine and BM-Publisher, Inc.
Article citation
References
Full-Text/PDF
Become reviewer
Research Article
http://dx.doi.org/10.18081/2333-5106/019-02/104-117
American Journal of BioMedicine Volume 9, Issue 1, pages 62-75
Received October 22, 2020; Accepted December 30, 2020; Published March 05, 2021
How to cite this article
Mai HN, Lee YS, Chang EH, Lee S. Interleukin-27 attenuates myocardial injury after ischemia-reperfusion through down-regulation of inflammatory response. American Journal of BioMedicine 2021;9(1):62-75.
Research Article
1. Abstract
2. Keywords
3. Introduction
4. Methods
5. Results
6. Discussion
7. References